Before getting into the review, I wanted to let you all know that I have done a complete revamp of my blog! When I first started blogging, I kind of just went into it not knowing much. All I wanted to do was write, which is still true, but I decided to make it more to my liking. The reason I'm mentioning this is because if you take a look at some of older posts, the format may seem weird now. They should still be readable if you are interested, but just keep in mind that they were all written and formatted before I changed my blog's ✨aesthetic✨. Anyways, onto the review!
Summary:

"The first and second use of a Dreammare's powers are the most dangerous. The first is pleasant and a preview of the power the Dreammare possesses. The second is pain."
On the night of her eighteenth birthday, Scarlett gets thrust into another realm in the worst way possible; near-death.
Not the way she would've wanted to be introduced to the home of the Dreamers but there she was in Ever Realm; where supernatural beings called Dreamers keep Nightmares in line and from terrorizing human minds.
It didn't sound bad being a Dreamer but when Scarlett finds out she's a part of something more, it becomes a revelation that pushes her closer and closer to the edge. While navigating the Realm's in's and out's, Scarlett will learn there's more to what lies beneath its starry surface and armor-clad people.
Between Ever Realm's residency of gruesome creatures, secrets, and a mysterious yet captivating closed-off leader, her struggle to find herself will be one Nightmare of a ride…
e-book provided by author in exchange for honest review
PROS:
The plot

. I was so intrigued by the summary of this book from the moment I read it. Author J. Clarice has obviously worked hard to create a unique world which I had never heard about before. Side note, but ever since I watched the movie Inception, I have been so fascinated by the concept of dreams and nightmares. If you're also interested in that, then this is for sure something you should check out!

The characters

. This is something I don't actually see a lot when reading YA or Middle Grade fantasy, but the characters in Sweet Dreams actually acted like their age. I know it may seem like a small thing to point out, but a lot of times the characters read as much more mature than they actually are. Obviously I love fantasy (it is one of my favorite genres, as we all know 👀) so I don't mind too much when characters act a little older. It was really

refreshing

, though, to get what you'd expect.

The ending

. No worries, this is a spoiler-free zone, but there was some great build-up leading to the final pages. Also, a cliff-hanger.
Literally me after the last page: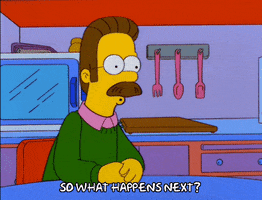 CONS:
The length

. I think this book would've benefitted from being longer. A lot of times the pacing felt off and it felt like the author was rushing to get things in. For example, at the beginning of the book, our main character finds out pretty quickly about the fact that she is a Dreamer. I would've liked to see some more build-up and background to the characters as opposed to it happening within the first 15 pages. In addition, I think the world-building could've been more detailed and woven.

The writing

. When I say this, I don't mean that the writing was bad. Because it wasn't. However, to me it didn't feel like the characters were as fleshed out as they could've been and it almost felt like they had no depth. By the end of the book I wasn't attached to Scarlett (the MC) or anyone else.

I do prefer character-driven stories as opposed to plot-driven

, so I'm not sure if that impacted my feelings at all.
Didn't feel very high-stakes…although there were a lot of twists and turns.
IN CONCLUSION…
For a debut novel, J. Clarice did a fantastic job! Like any book, it wasn't perfect and there are definitely some improvements that I think could be made in the second book. That being said, it has a lot of potential and I'm excited to read more of the author's work in the future 🤎
Rating: 2.5 – 3 stars
Interested in reading Sweet Dreams by J. Clarice? Check out any of these sites:
Goodreads | Amazon
Will you be checking this book out? What was the last book that pulled you in because of the summary?